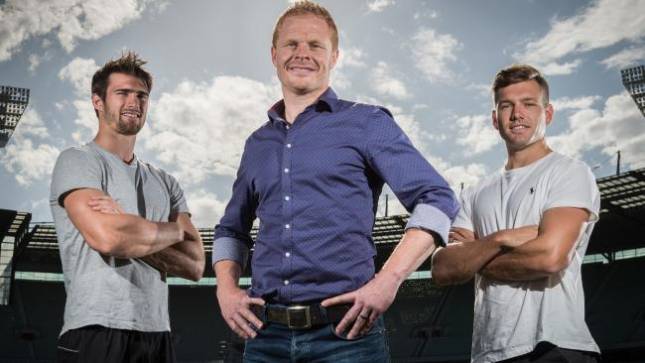 Easton Wood, Shaun Higgins credit 'injury-free mind coach' with career-best seasons
GLENN McFARLANE, Herald Sun | December 12, 2015 8:00pm
FORMER teammates Shaun Higgins and Easton Wood have credited their career-best seasons on the work of an "injury-free mind coach", Richard Maloney.
Both players had battles with their bodies early in their careers, but since turning to Maloney - a one-time leadership coach at the Western Bulldogs, and now a leading sports and business coach - the two AFL stars have transformed themselves into durable, consistent contributors.
Higgins took up a free agency option to join North Melbourne, and was rewarded by having his most consistent season, being one of the recruits of the year.
Wood played all but one match this year and won the Charlie Sutton Medal as the Western Bulldogs' best and fairest, as well as winning All-Australian selection.
Both players employed Maloney at the end of 2013 on an individual basis away from their clubs, and the pair remain convinced this has played a strong role in their recent successes.
"One of the original reasons why I went to Richard was that I was breaking down constantly with injuries," Wood said.
"Every season I had some kind of ailment and it came to a head when I tore my hamstring for the second time in 2013, and ended up playing only five games for the season.
"I felt like I was just about done. I just didn't have a way of dealing with stress or pressure. I was always the kind of person who was a bit of an over-thinker.
"That just really burdens you and the stress was being put into my body. I was being driven by fear - fear of getting injured, worrying about what would happen if I got injured and just getting burdened by all that sort of stuff.
"Richard has been absolutely critical over the last few seasons. The first season with him I played 18 out of 22 games, and this year 22 out of 23."
Higgins too fought a running battle with injury during his career with the Bulldogs - where Maloney worked from 2011-13 - and he started to employ him on a personal basis following a broken leg during the 2013 season.
"Richard's quality mind program has given me the ability to separate myself from whatever else was going on," Higgins said. "It has just given me clarity of mind.
"I haven't had surgery for a few years now, and I think all this has come from my general wellbeing being improved, through Richard's program."
Maloney was recruited to St Kilda by club great Trevor Barker in 1995, having enjoyed some success with Sandringham, but injuries and lost momentum cost him any chance of making it at the top level.
Instead, he enjoyed a successful career in state-league competitions across Australia, and channelled his energy into unlocking the potential of athletes.
"I wanted to investigate why I failed," Maloney said of his quality mind program. "In doing so, I wanted to work with athletes and unlock their true potential."
Maloney, who has worked with numerous elite sporting teams as well as many local clubs, developed a program devised to help athletes overcome and triumph from persistent injuries.
"The players had the key to success in their pocket and they have been able to unlock it over time," he said.
"Easton and Shaun are great success stories. One day at the Bulldogs I grabbed Easton and said 'You have so much potential in you, I think you need to strip back your mind and rebuild it'.
"He didn't grasp it at first. But then the penny dropped and he has gone through the roof in the past few years.
"The body and the mind must be 50/50 in terms of performance. Easton and Shaun have committed to the program and they've seen the benefits of it."