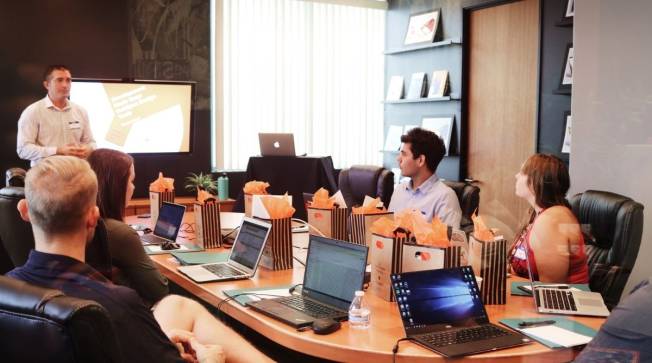 In these unprecedented times, many employers are fighting harder than ever to remain profitable, and employee performance is one of the most influential drivers when it comes to business success. Employee well-being directly affects how employees think and feel about their job and their organisation, and research has consistently shown that it predicts job attitudes, execution, efficiency, energy levels and working relationships.
As a business leader today, employee wellbeing must be at the forefront, and one of your main goals should be ensuring your people are highly engaged, managing stress and managing pressure effectively. If these critical key objectives are achieved, it will result in a higher quality of work, increased productivity, employee retention, and a thriving and fulfilled workplace. First and foremost, this requires you to manage and lead by example, keeping in mind that there is a strong link between stress and disengagement at work. Management stress is highly contagious, and the same goes for fellow employees and team members.
We have devised a simple 5 step process to assist you in building your stress-free dream team:
Evaluate & Benchmark each of your Team Members
There are generally three types of people in an organisation when it comes to engagement levels:
The Engaged Employee -Works with a passion and feels a profound connection to the organisation they work for, providing maximum return.

The Non-engaged Employee - Is essentially there in body only. They're sleep walking through their day. Marking time, but not energy or passion, into their work, and providing minimum return.
The Actively Disengaged Employee – is not just unhappy at work; they're busy acting out their unhappiness and hindering progress, usually providing a negative return.
Disengaged employees are often the most stressed employees, and they tend to 'taint the waters' and bring others down to their disengaged level. This can have an extremely toxic impact on a team, so it's imperative that you identify these people and turn them around quickly.
Create Buy In and Collective Accountability
There are two critical areas in business. The heart-based, such as relationships, communication, culture, and leadership; and the brain-based, such as systems, processes, products, and governance. The key to buy in is to build the heart of the business first, so that your people develop an emotional connection to the business and their colleagues, thus feeling more invested and more inclined to go the extra mile with the brain based, non-emotive work. There are many activities you can introduce to create collective buy in and accountability, but the crucial component here is to ensure you prioritise, develop, and nurture the heart of your business in order to drive success and engagement. One powerful activity is to hand out post it notes and have everyone write down the one thing the business needs most to be no. 1 in your industry. Some examples may be: Unity, Communication, Sales, Training, Fun, Leadership, Systems, Culture, Engagement. Once the list is finalised, focus on the heart-based growth areas first, and have everyone nominate a tangible action that they must complete each week to improve upon the nominated growth area.
Super Glue your Crew
Many businesses prioritise company values, but values do not unify a team. Behaviours unite and are the critical component when it comes to connection and cohesion. Agreed behaviours are tangible and are a great way to make people feel like they are part of a closely interconnected team who are all on the same page. Get your team together and ask them to collectively brainstorm and agree to 5 simple, measurable behaviours that are designed by your people for themselves. Your people are far more likely to embrace and uphold their company 'behaviours' if they can easily measure themselves and others against them every day, and they should meet to discuss this weekly. Some examples of desirable behaviours could be a positive can-do attitude, consistently meets deadlines, courteous & friendly, punctual, honest, fun, or a great listener.
Speed Rating
Speed rating is a great way of assessing and filling the wells of your people when it comes to your relationships. Too often leaders know less about their own people than their people know about them, and no one cares how much you know until they know how much you care. Rate your relationship with each of your team members from 1-10 (with 1-4 being poor, 5-7 average, and 8-10 strong). Then every day for the next month take the steps to improve on those relationships and fill the wells that rate under 8, before conducting the speed rate again.
Take the time to learn more about your people's wants and needs, to understand who they are and what drives them, and to ensure they feel they are your organisation's most valuable asset.
It's all about Heart!
Once you get to this point, it's about retaining your talent and ensuring they continue to grow. Maintain a strong focus on points 1-4, and make sure you are always encouraging your people to advance and stretch slightly out of their comfort zone. And finally, remember the prioritisation of the heart before the brain is the no. 1 key to a stress-free dream team!
Richard Maloney is the founder and CEO of Quality Mind Global, an international mindfulness business with over 1000 clients in 30+ countries. He is also the founder of Engage & Grow Global, which is now the number one employee engagement licensing company in the world. Now, he has a unique and tangible personal activation system designed to minimize or eliminate stress from business leaders and executives through systematic mental training, allowing you to unlock your ultimate capability and your true potential, both at work and in life. For more on the Quality Mind Program & our ground-breaking Personal Development App, or to purchase the book Stress Free – How to Thrive Under Pressure in Unprecedented Times, or Injury Free – Mental Training for Elite Athletes (offering personal development for athletes), go to www.qualitymindglobal.com