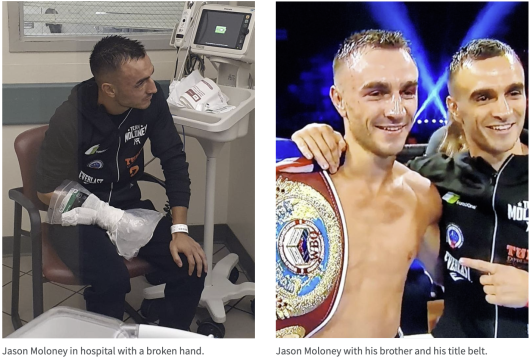 Jason Moloney, client of Rich Maloney's (no relation), wins the 'World Boxing Organisation's (WBO) bantamweight world title in the US!
Australian boxing has another male world champion after Melbourne's Jason Moloney defied the "excruciating" pain of a broken hand to live out his dream in America.
Stung by two previous failed world-title attempts was a case of third time lucky for 'Mayhem' Moloney, who outlasted Filipino rival Vincent Astrolabio on Sunday to win the vacant WBO bantamweight crown at Stockton Arena.
After the fight, Jason said to the press:
"I can't believe I've done it. I'm a champion of the world," an elated Moloney said.
"It hasn't quite sunk in because I'm in a world of pain.
"I've just arrived at the hospital here to get my hand fixed.
"It's third time lucky. It's incredible. To know, I'm a world champion, I am so relieved.
"If I didn't win this fight, I feel like I would never have got this opportunity again, and for the rest of my life, I would have felt like a failure and been devastated."
Then messaged Rich Maloney:
"Thanks so much, Rich! I have really appreciated your support over the time together with the lessons and tools you taught me. I was talking myself through the whole fight, and my mental game had never felt better! Thanks so much - Jase Moloney